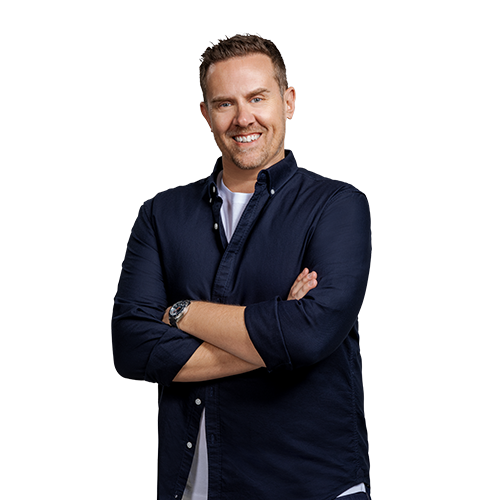 weekdays from noon
CHRISTO
Flashback Lunch!
After waking up the Gold Coast for 10 years as part of the 1029 Hot Tomato breakfast show, Christo has traded early starts for a lunch time on-air slot.
He now rises at 11am, swings by his local for an iced vanilla latte (extra cream with a double-shot of caramel, and one equal – he's watching his weight), and dives into the studio to host the lunch shift from 12noon – 3pm.
Christo is a local who's spent most of his life here on the coast. He vividly remembers skating at the Southport Roller Rink, slipping down the waterslides at Grundys in Surfers Paradise and riding the chairlift at Magic Mountain. These iconic attractions may have closed, but Christo remains on a mission to help his 3 young kids discover all the hidden secrets the Gold Coast has to offer.
Besides his work at 1029 Hot Tomato, an attempted music career, a podcast and the odd date night with his wife, Christo loves a good flick, LOVES his F1 and is obsessed with listening to music – which is why we gave him the Flashback Lunch every day at midday, to let his stupidly intricate level of music knowledge run free.
Find him on socials under @christoradio and say hi.
Get in contact!
Phone: 07 5571 1029